THE CHILDBLOOM GUITAR PROGRAM
CURRICULUM
TESTED, STRUCTURED, EASY & FUN!
The Childbloom Guitar Program uses a tested curriculum and structure that makes it easy and fun to teach a high-skill, classical guitar technique, music literacy and musicality to kids as young as 5. 
"FUN"DAMENTAL TECHNIQUE & MUSICALITY
The first level of curriculum is a pre-literate program. The parts introduce a hierarchy of technical skill, so as the child learns the material, he or she is also developing left and right-hand guitar skills.
'The music is arranged in parts so that the ensemble component is introduced to the student right from the start.  We provide each student with audio materials and easy-to-read transcription of the music so parents can help at home.
This is the level at which the student is introduced to the proper playing posture, positions of the left and right hand, rest stroke, free stroke motion with dyads and chords, arpeggio motion, thumb use, use of all left-hand fingers in a static and moving posture and musical ideas.
"FUN"DAMENTAL LITERACY
All reading-ready Childbloom students undergo a step-by-step literacy program. First-position notes and fundamental rhythm combinations are performed with short solo and ensemble tunes.
Ensemble play is continued with rounds and part music. Included are tunes common to the cultural literacy of the Americas. Fingering notation and rhythmic notation down to sixteenth notes and dotted rhythms are presented in this literacy step. In this program, more technical issues are introduced once the student is reading on multiple strings in a confident manner.
The book culminates with learning music with multi-voice textures. A beautiful, "play-along" recording of the lessons are available to the parent through a download system.
EXPANDED TECHNIQUES
Once a student has learned basic literacy skills, the challenge is to develop more technical and advanced literacy knowledge. This part of the system builds the student's solo repertoire with carefully selected and beautiful music from the 16th century to the present.
Unfortunately, young students have nowhere to go to listen to the music that they can actually play since concert music is beyond reach. Thus we provide a CD of the music they can play, perfectly performed, to accompany this series of tunes. No wonder its called "Tunes You Can Play."
EXPANDED LITERACY THROUGH ENSEMBLE
In order to reinforce the students' literacy skills and to provide ensemble experience, expansion ensemble music is presented.
This work has music in 2,3 and 4 parts. All the music is constructed to reinforce literacy and technical skill. This collection contains some of the most beautiful folk songs of the world and is perfect for recitals and public performances. 
MAINSTREAM TECHNIQUE
This is an advanced collection of tunes for the student. Works from Medieval to contemporary composers such as Bogdonavic, F. Wallace & K. Taylor are included.
 The Tunes You Can Play is another beautiful production. Students encounter more advanced techniques, literacy, and higher-position reading.
INTERMEDIATE ENSEMBLE
This is an advanced collection of ensemble pieces for Childbloom students who have played for several years and contains arrangements of music from both folk and Art music traditions.
RHYTHMIC LITERACY
This is a system of reading rhythm. It presents a developmental process for playing and understanding rhythmic notation for the student in one AND two parts.
From the simplest whole/half/quarter notation to mixed meter in two parts and syncopation, this book is the best work of its kind ever produced for developing guitarists!
THEORY
The Childbloom Company's theory material is specially geared toward younger minds. Information on fundamental language of music is presented in the literacy material and fundamental rhythmic understanding in the Rhythm manual.
There is also material dealing with the understanding of harmony (Tonic/dominant), the use of chords and playing in the upper positions. Our Blues/Rock theory Unit is also popular.
SPECIALTY MUSIC
The Childbloom Company continues to add to their catalog: Christmas music, Hymn music, patriotic music in a "one-size-fits-all" arrangements from an easy version to a 2 or 3 part version. There is also occasional music offered in the Childbloom Monthly Newsletter, which parents receive. This music is available only to certified Childbloom Instructors.!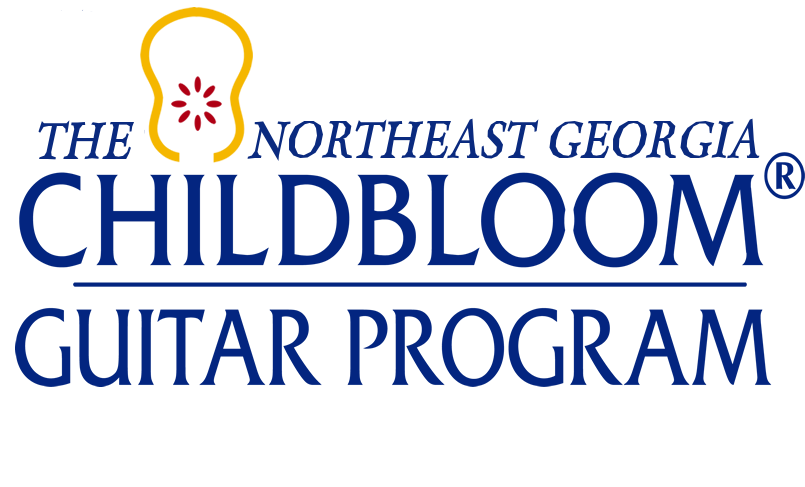 SCHEDULE A CALL OR MEETING
With Mr. Browne  
COME ON IN
ADDRESS:
1862 Auburn Rd,            Suite 118-V1,              Dacula, GA 30019 
HOURS 
Mon-Fri                              3:00 PM - 7:30 PM 
questions or Concerns?  Lets Talk. Please call or email.